Bandzoogle.com makes it incredibly easy to build and maintain a website; your website to be exact!  The backbone of any website is the content contained within, and the Bandzoogle tools available make it incredibly easy to build your content and position other features and website pages exactly where you want them.  Apologies to website creators out there, but we are now in the year 2017, where templates and admin platforms are preferred options to manage a website.  Previously, if you wanted your designer to adjust something on your website, it involved a phone call or email directly to them or one of their assistants, who would then make a process of a single edit on a page an extremely painstaking process.  Adding insult to injury, the prices for design or a single edit were probably appalling. 
This doesn't happen when you control your own website with Bandzoogle.  At the coffee shop? Sign on and make an edit.  2 a.m. in the morning?  Sign on and make that edit.  Traveling? Sign on and make that edit.  If you haven't caught on by now, anytime you have access to an internet connection is a potential time to build or edit your website.  You don't need an army of people or someone speaking jargon to you about a website edit; all you need is Bandzoogle and a brain.  Do you have a brain? Good.  Do you want Bandzoogle? Read on..
Now, let's start talking about some of the features and benefits of using Bandzoogle.  As mentioned earlier, I still believe written content is king on any website, so we will review the Text feature on Bandzoogle first.  Their  text feature is very easy to work with and is similar to a "WYSIWYG" type of editor, which means "what you see is what you get."  When working with the text editor, you immediately have access to format using Bold or Italic font, a numbered or bulleted list, and the ability to add a link.  If you click "Advanced Toolbar" on their text tool, you then get "the whole kitchen sink" of options which are size of text, color, alignment, inserting a picture, video, table, horizontal line, and the ability to use HTML source code. 
The link feature is extremely helpful because you can link text or an image to an external site/page, one of your own existing pages, a file, an email address, one of your albums if applicable, or one of your music tracks if applicable.  There is also an option that specifies whether or not to open in a new window.  So, you are easily able to have a clickable link referencing and directing your visitors to wherever you want them to go!  Writing about your next concert? It's easy to direct visitors to any external ticket sale site.  Referencing a book, external blog, or a cool product you started using? All fair game.  Basically, you have discretion over your content and how you want your audience to interact with you, your site, and your links.   In regards to using images, you can accomplish the same exact thing by adding the Image stand alone feature which is another option on your Bandzoogle portal.  Otherwise, you can use the Text function we just discussed, which is like a swiss army knife of website tweaking. 
In regards to placing content, Bandzoogle has a drag and drop classic editor, or a newly rolled out visual editor.   These are both incredibly easy to use.  Once content is created, you can also move existing content to a different area on your page.  In this manner, you can experiment and then find your optimal design.  Generally speaking, content can fit inside 1/3 of a page, ½ of a page, the full page, or a combination of sorts where there is a side bar mixed with the main area.  You can also have multiple design techniques on a single web page.  This helps to layout your site with both content and aesthetic appeal. 
Let's take a look at a real world example of my website layout with text, image, and links.  The layout at the top of the page features a larger area on the left side, and then a small side bar configuration on the right.  This is easily configurable inside of your Bandzoogle portal.  The text has some unique words in bold to help Google know what my site is about and to stand out to users reading content.  Any word in this text can be changed to a link if desired.  There is also an Amazon advertisement I pasted in there, still functioning inside of Bandzoogle's text feature. [Remember, within a text feature you can also use HTML and insert images if necessary.]  You can think of the text feature as a blank space where you can basically add anything you want. 
On the top right of the page, there is a text feature that only reads FL Studio Cookbook link.  Beneath that, there is a standalone image feature.  Take a look at the options shown below; this is the exact view I have when working with the image feature in my Bandzoogle portal.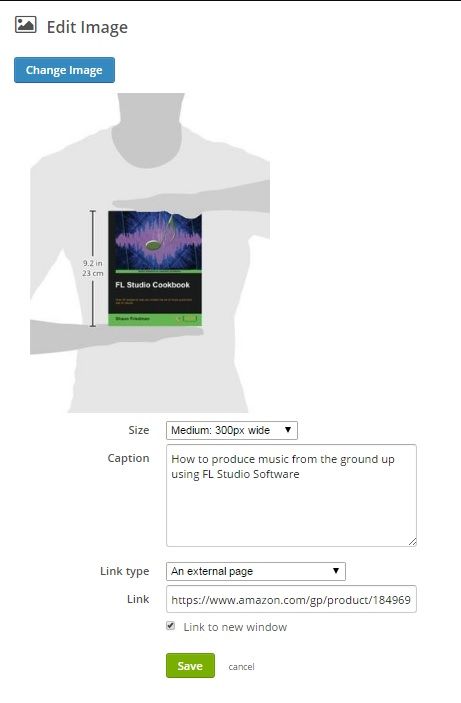 You can change the image, size, caption, link, and specify if the link opens in a new window or not.  In this case, I am directing those that are interested in clicking on the link to my Amazon book page. 
The middle area of the Free Beats Page has free beats on the left and free loops on the right, in a more even looking layout.  Both use the music function provided by your Bandzoogle backend manager.  The music function has a plethora of global options as well as track options.  Globally speaking, you can choose a track list or compact music player, the playback type, whether or not tracks start automatically, whether or not to shuffle tracks, and whether or not to loop when completed.  You may also use a discount codes and download codes if needed, and can also link your PayPal account to receive payments.  There is also a handy transaction history report, which is like an accounting report of all downloads and purchases.   If you are selling physical products or merchandise or anything that is not an actual music track, you can use the Store feature inside of Bandzoogle's portal.  I created some music themed T-Shirts here if you'd like to take a look at what a Store feature could potentially look like.  The options in a Bandzoogle store are customizable per your needs, so your store may hypothetically not look exactly like mine. 
Regarding each individual music track,  Bandzoogle has many options to choose from including track name, artist name, preview clip if applicable, allow a download or a sale, ISRC code if applicable, track notes, lyrics, ID3 tags, and how the track streams when shared.  The download type can be free or paid, and you control setting a price or fans setting a price.  Furthermore, you can require an email address to download a track which automatically adds said email to your mailing list!  This makes it so easy to build your mailing list!  While I'm mentioning it, we can take a closer look at building your mailing list through Bandzoogle's tools.  Furthermore, it's important to remember that you can send out mass emails to your subscribers through Bandzoogle's portal as well! 
If you take a look at the Free Remixes Page, there is a mailing list sign up form function provided by Bandzoogle.  This is on the right side column of the page.  You can use this wherever you want on your website, and on as many pages as you desire.  I also have this on the Lyrical Covers page, among others.  The Free Remixes page says "link up" and the Lyrical Covers page says "bridge the gap."  You can customize this message to your liking or use the standard one that Bandzoogle provides.  I think this helps show my personality and welcomes others to join the mailing list. 
Regarding selling beats, Bandzoogle recently partnered up with Airbit, formerly known as MyFlashStore.  This is a third party beat selling platform, but as of June 2017, there is now a seamless integration between Airbit and Bandzoogle.  So, for those who want their tracks on Airbit and want to develop their own main website, Bandzoogle is an awesome option. Speaking of seamless integration, Bandzoogle also offers external integration with Instagram, Twitter, Bandcamp, Topspin, PledgeMusic, Bandsintown, GigSalad Quote Form, and GigSalad Review. 
Regarding the actual theme of your website, the Bandzoogle portal has visual representations and examples of how various themes will look.  Themes can be thought of as templates, which may include a header image, colors, textures, and suggested layout.  Depending on your genre and the impression you want to give visitors, this obviously will vary individually.  The cool thing is that once you test a theme, it adjusts your whole website and all pages in one fell swoop.  From that point you may keep it as is, customize it a tad more [if you like the general theme], or revert back to your old theme.  No theme change is destructive so there's no need to worry.  Previously saved themes are stored in your My themes area, so you can restore older ones if needed. 
A website is something that is always in constant flux, or should I say should be in constant flux, because what's optimal today may not be so optimal tomorrow.  The Bandzoogle platform offers all the flexibility you need to manage a well thought out website.   The team at Bandzoogle is actually like a bonus; they are very helpful in help chats and in email. 
In closing, I want you to type in the search term "free beats" in Google.  I need you to read this very carefully after you see where UnbelievableBeats.com shows up in the search results.  I am a top result on Google for the search term free beats and I have not spent a single penny on advertising the website.  The Bandzoogle platform is a key factor in search result success.  This is also due to the way Bandzoogle sets up their web pages and the way you can further customize SEO if needed.  On every page you develop, you may edit the Title and where it shows up in your main menu.  SEO information can then be automatically generated from your page content, or you can customize your Page Name and Page Description.  On the global level of what Bandzoogle calls Site-Wide settings, you can add a website Icon which shows in various internet address bars, Footer Text like you can see on my site, and verification of your sitemap through Google Webmaster Tools.
Special Offer: 30-Day Free Trial on Bandzoogle and 15% off any first year Bandzoogle subscription.