I have had the Behringer
Xenyx 802 mixer
since 2006.  
Major gratitude to the forum admins in the 
FL Studio
 forum, who recommended the mixer to me after I told them I had to hook up a
condenser mic
, the
Roland Fantom
X-8 keyboard, the
Stanton T.80 Turntable
, and possibly a TV! (the audio output of anything on TV).  
I also have the Mbox2, and I must say that the Pre-Amp inside the
Xenyx 802
amplifies much better than the MBox2.  The mixer, with the Phantom Power and XLR condenser mic plugged in, really makes recording vocals at home a clear quality.  When doing this tactic, the Mbox2 only serves as a gateway into the computer (Where I record into FL Studio); it's input gain is completely turned down.  The same thing goes for anything plugged into the Behringer Mixer like a Keyboard or Turntable; it seems to boost the audio power.
I recently utilized the FX Send and Return feature in the video:
Put the Gun Down Human Being
 - The small echo is from an analog delay, and the DEEP PITCHED VOCALS on the HOOK is actually from the send/return feature. (a pitch shift fx of sorts)  You can use this feature on the mixer for anything - many times these FX sends are a way to input some Reverb, Echo, Delay, Pitch, and other fun and interesting music/electronic effects.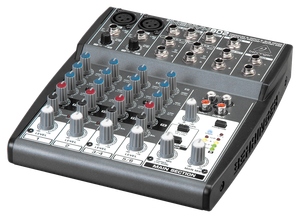 The unit also has some RCA inputs, as well as a main out and control room out.
When using in conjunction with the computer, I simply use the main out of the mixer into the Mbox2, which connects via usb into the computer.
Maybe one down side regarding the mixer is the power plug in, which has to be fed into the back of the mixer.  No biggie, but that part can get damaged; it is the only piece I have replaced on the mixer since owning in 2006.  Actually, the only damage was to the metal prongs, so take a look inside and be sure not to abuse it.  (I simply never knew they were there)
My buddy in Fort Wayne actually took this unit to a jam session with a band, and the results were pretty damn slick.  So in a live environment, it definitely gets the job done.  
Check out the
Xenyx 802 mixer for many applications
, clear electronics, and a solid design. 
The unit has a purple/blue laser when on.