Thumbs up to the Direct Sound EX29
Professional Headphones
.  These were gifted to me while working at Sweetwater Sound in Fort Wayne Indiana.  The owner of the headphones is quite the cool man, and gave our class (training class before hitting the sales floor) free pairs.  I used them in a coffee shop where I created the foundation for what was to be my Deck the Halls
Christmas Remix
; a competition at work where people submitted enough material for a double disc CD. I used the EX29 headphones to sample deck the halls, as well as add sub bass from Reason in the coffee shop @ Mocha Lounge (Fort Wayne, IN), sequencing in FL Studio. 
In Fort Wayne, my buddy Matt Lowe who engineered @ Tree Sound Studios in ATL recorded most of my vocals.  When I returned to Cleveland, the
EX29
's helped me again.  The feeling around your head really shuts out the outside noise; this helps tremendously when recording vocals because the microphone won't pick up the leaking of the headphones...or as little as possible.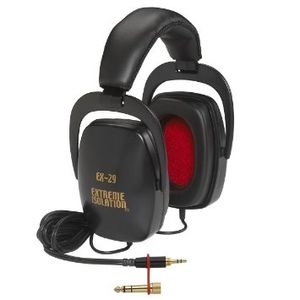 On the inside of the headphones, there is a RED color for the right side of your head, instantly squashing the left or right inquiry. ;)
I have used the amazing
Bose Quiet Comfort 2
, and the EX29's definitely cancel out much of the exterior noise as well.
There's a large sized cup for your ears and the headphones themselves are quite substantial in size, coming with a handy 1/4" adapter that SCREWS onto the tip of the standard 1/8" jack.  (high quality as well).  
Overall, although they came out of nowhere, I have exclusively used the EX29's to produce all of my material since 2011.  
I consider them a blessing and they are legit headphones, whether you are mixing or recording vocals (extra bonus due to less leakage).  They are made of quality components and I never had a single problem. 
Pictured circa 2011; Fort Wayne, Indiana donning the EX29's.